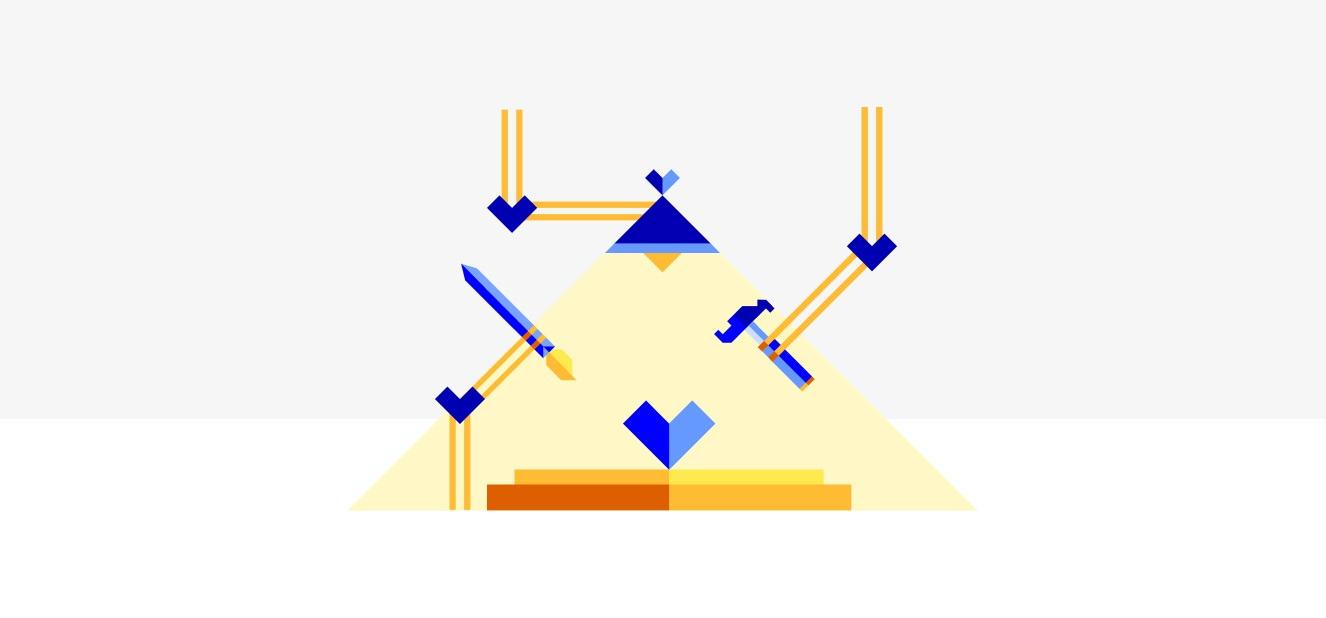 Date:
Wednesday, November 18, 2020 - 18:30

to

Wednesday, December 9, 2020 - 20:30
Designs Systems. The heartbeat of every digital product that is aesthetically pleasing and accurately developed. The go-to place where designers "meet" to align, contradict, talk about color, form, accessibility, buttons and how to keep everything consistent. The art you must craft to advance with the ever-changing product and physical world.
This 4-part workshop is built to provide you with all the knowledge you'll be needing to create, maintain and evolve design systems.
It will include theoretical lessons and best practices, hands-on activities, and plenty of Q&A time at the end of each session.
After completing the workshop, you will walk out with a solid foundation about how to sell, plan, craft and maintain a diverse, accessible & successful design system at your organization or personal projects.
In this workshop you will learn
Tactics and strategies for selling a design system to stakeholders, clients and colleagues
Communicating a design system in a remote world
Atomic design principles and moving beyond them
Why Figma is the go-to design tool to host your system
Architecting a top-quality design system step by step in Figma
Crafting your system based on diversity, inclusivity and accessibility
Getting the system developer-ready
Documenting the system using a reference website
Maintaining and evolving a design system over time
Bonus: Guerrilla design systems
Prototyping
Who will benefit
UX and UI designers
Teams making design systems
Front-end engineers
Design-ops people
Product owners / managers
UX Researchers
Business / Startup owners
Anyone responsible for the success of digital products
Agenda
Day 1 - November 18 (18:30 - 20:30)
What is a Design System and why do we need one
Designs Systems for designers and non-designers
The anatomy of a successful system and where to build one
Kicking off the design system initiative using Figma as your ultimate source of truth
Day 2 - November 25 (18.30-20.30)
The actual building of the Design System in Figma
Moving beyond the Atomic Design principles
Thoughtfully implementing diversity, inclusivity and accessibility in your system
Creating your foundations (Colours, typography, iconography, grids, shadows, etc)
Day 3 - December 2 (18.30-20.30)
The actual building of the Design System in Figma
Creating components and patterns (Buttons, text fields, feedback messages, etc)
Prototyping components
Starting a pilot project
Collaborating and sharing updates with the design team
Day 4 - December 9 (18.30-19.30)
Cross-disciplinary design system process: from business needs to design to code to production
Creating and handing-off design tokens
Front-end best practices
Getting your system out to the world: documenting and publishing
What is the future of your Design System: design team structure, maintenance and evolution
Guerilla design systems
Trainer

Konstantina Chorianopoulou
Senior Product Designer @ Kaizen Gaming (Stoiximan/Betano)
Konstantina Chorianopoulou is a Senior Product Designer at Kaizen Gaming, a design coach, and an aspiring design teacher. She is enthusiastic about new technology and innovation and is driven by the belief that design is a pass for making the -online and offline- world a better place. Currently she is engaged in bringing consistency and scalability across the whole Kaizen product by building and evolving design systems. By promoting collaboration, transparency and common practices she encourages cross-team interaction and builds the basis for future-proof scalability. Her superpower is the urge to keep solutions simple both in design and development and the will to improve the interactions between people and products they use. She has worked for startups, agencies and bigger organizations including Agile Actors and Blueground. She enjoys speaking in Meetups and leading design workshops. When she is not designing, she likes spending time in nature, gazing stars, and climbing rocks.
Fees Include
Training resources
Working example files to take away
Certification of attendance