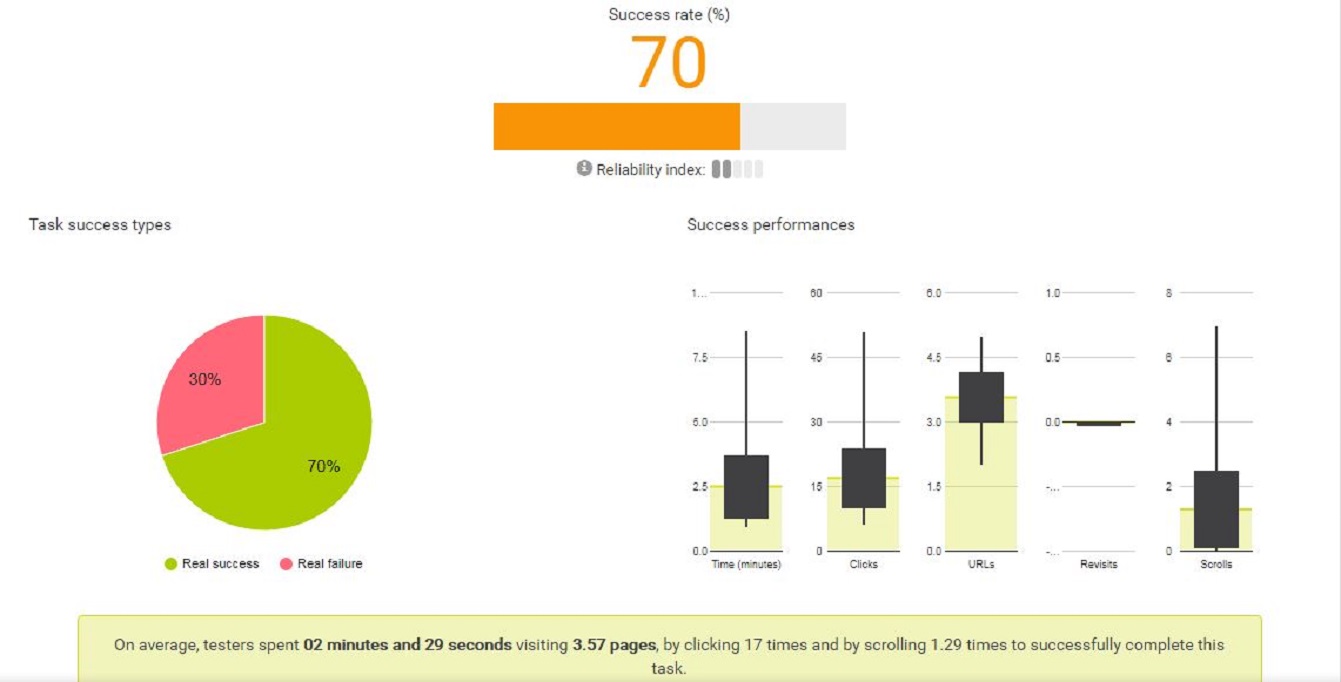 Saturday, November 25, 2017 - 00:00
As we all know any contemporary digital product or service should provide a great user experience. But how can we be sure? How do we know? Common questions like the following emerge very often:  
"Which design is better?"
"How can I improve the quality of the interface?"
"What is the impact of changes in a redesign project?"
All the above can be confidently answered through UX measurement.
When it comes to UX design effectiveness don't rely on opinions. You need to provide evidence if a digital product is usable or if a new design is better than a previous one. In the world of digital design an interface is good only if it's measurably good. As Lord Kelvin said, "If you cannot measure it you cannot improve it". Therefore it is crucial to know what to measure, how to measure it, how to communicate the results, what kind of tools we can employ to support us in this challenging task.
theUXProdigy offers an interactive training course on methods, metrics and tools that help companies and product design teams to measure UX. The appropriate theoretical background will be combined with practical exercises with the use of some popular commercial UX tools. You don't need any previous knowledge on UX research or measurement to attend.
In this workshop you will learn
The types of UX measurement
The basics of the most important methods for UX measurement
The essential UX metrics
The structure and components of a good measurement plan
How to develop measuring instruments
Tools for conducting UX measurement studies
Who will benefit
Business & product owners, startup founders, entrepreneurs
UX designers / UI & visual designers 
Software developers / CTOs
Product managers
Growth analysts / digital marketers  
Agenda
Introduction - Goals & objectives of the course
Types of measurement and UX goals
Preparing a plan for measurement
Implementing UX measurement:
Popular UX Methods
Essential UX Metrics
Exercise: Prepare your own measurement plan
Software Tools for measuring UX
Practical exercises with the use of tools
Trainer
Dr. Panagiotis Zaharias
Founder | Lead UX Researcher
Panagiotis started his career as an academic UX researcher pursuing a Ph.D. in the field of Human-Computer Interaction. He worked on several European research projects and after the successful completion of the Ph.D. degree, he started teaching at Universities in Greece and Cyprus. In parallel, he started to provide consulting services on UX Research & Design as a freelancer working with several companies and startups. He is a published author (70+ scientific papers and book chapters) and he has given talks and taught workshops on UX topics at academic & industry conferences around the world. He is also the organizer of the first UX community in Greece, the so-called Athens UX Community. Recently he co-founded "The Scaffolders", an e-learning content design company.
 
Fees Include
Copies of slides, notes and resources

Light lunch & drinks

Certification of attendance